Printer Replacement Experts – Let us guide you through replacing your old, discontinued and End Of Support (EOS) printers - with current printers that will improve your operating costs, performance and serviceability…all done seamlessly for your transparent replacement solutions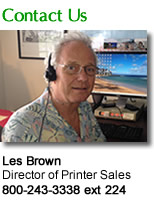 We provide national On Site printer repair services, both Time & Material (T&M) and Annual Maintenance Agreements (AMA).

We offer Depot Repair services on many whole printers, as well as some accessories and sub-assemblies. 90 day warranty. Exchange Repair is available on some items too.